Kate Hudson likes to stay healthy and active and credits her mom, Goldie Hawn for influencing her desire to be fit and healthy. She told Yahoo Lifestyle, "My mom is very much into her own health and wellness, and she's very active." "I grew up watching that — that's a foundation for me that is just there."
The fashion designer is the co-founder of Fabletics, an active-wear company. Hudson is also the new global ambassador of WW, which was previously called "Weight Watchers."
After having a baby in October, the mother of three made a New Year's resolution to bet fit, get into better shape, and live an active life in 2019. While the author enjoys various workouts, she always makes sure she is working on her abs. The 39-year-old actress says "Everything to me is centered in the core."
Here's how to do that exercise in under one minute: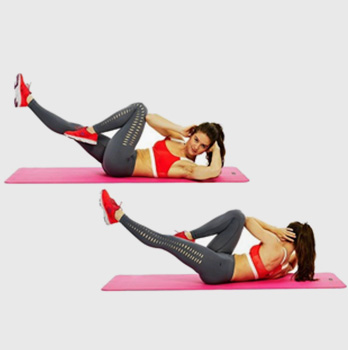 First, lie on a mat; make sure your lower back is pushed into the floor.
Now, place your hands behind your head and support your neck off the ground. Tighten your abs.
Bend your left knee, bring it toward your chest as you twist, and bring your right elbow toward your left knee.
Now, switch; bend your right knee and twist your left elbow toward the right knee. Do it alternatively from side to side.
This exercise works on your abdominal muscles at once; this is the reason it is one of Hudson's favorite abs exercises. She says, "You're just constantly engaged." "You get your obliques – you get your center (abs), your uppers and lowers. You have to make sure that you're really tucked in and not hurting your back." "If you did that every day, your abs would be sick."